In recent years, there are more and more friends using the battery sorter of Sino US Chuangli. Especially this year, many friends are searching for or consulting the battery zhongmei Chuangli. Xiaobian here to introduce the next 20 grade cell sorting machine and its characteristics, convenient for your reference.
1、 Brief introduction of 20 gear battery sorter of Sino US Chuangli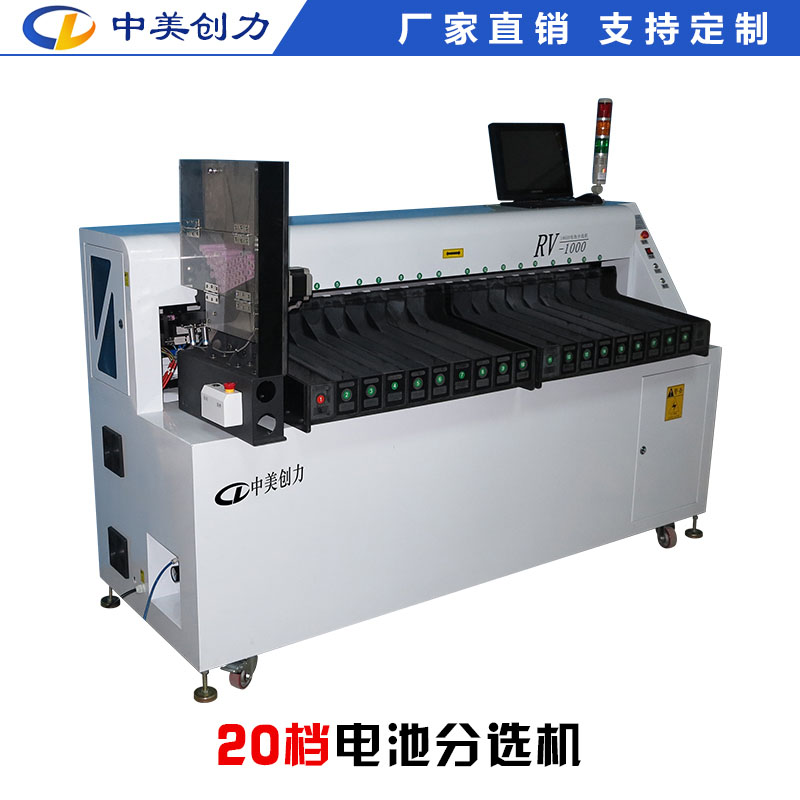 Zhongmei Chuangli 20 gear cylindrical battery sorter is a kind of testing and sorting equipment for the internal resistance, voltage and other parameters of cylindrical battery.
Product model: cac-fx20d
Dimensions: 2035 (L) * 765 (W) * 1400 (H)
Equipment weight: 320kg
Instrument: precision voltage internal resistance tester hk3561
Working gas source: 0.5-0.6mpa
Sorting parameters: open circuit voltage, AC internal resistance
Adapt to battery specification: 18650 cells
2、 Advantages of Zhongmei Chuangli 20 grade cell separator
The sorting mechanism of the equipment is precisely controlled by servo motor, and the testing mechanism adopts five position scanning tester, which can test five cells at the same time, greatly improving the test speed and stability of test data, and can realize the sorting of 19 grade good products and 1 grade bad products.
The operating system adopts the windows upper computer operating system independently developed by our company, and the test data can be saved for a long time, which is easy to trace.
3、 Introduction of Sino US Chuangli company
Shenzhen Zhongmei Chuangli Industrial Co., Ltd. (hereinafter referred to as "CAC") is a professional lithium battery pack equipment manufacturer. The equipment developed by the company includes: battery automatic sorting machine, battery automatic spot welder, automatic highland barley paper sticking machine, aging test and the whole automatic pack line. The headquarters of the company is located in Shenzhen, a city with developed information industry in China. The company is a technology enterprise integrating R & D, design, production, sales and service.
The company provides complete process automation solutions for lithium battery new energy, electronics, home appliances, and other industries. With the business philosophy of "leading technology to win the market and relying on high-quality service to repay users", the company adheres to the principle of "happiness and win-win" to create value for customers. Products are mainly suitable for 3C digital batteries, electric tools, electric vehicles, solar street lamps, energy storage batteries. In the course of several years of development, the company has a team of senior engineers in the industry, introducing Japanese and American Welding Technology and independent research and development, so as to effectively ensure the update and practicability of products.
文章版权备注
文章版权归 CAC 所有
文章链接:http://en.szzmcl.com/1915.html
未经授权,禁止任何站点镜像、采集、或复制本站内容,违者通过法律途径维权到底!