Equipment introduction
This equipment is mainly used for manual welding of battery and nickel plated steel strip or nickel strip in cylindrical / polymer battery combination, and ensure the welding tension of battery and nickel plated steel strip or nickel strip ≥ 30n. It is mainly used for spot welding of moulded lithium battery pack such as electric motorcycle / electric vehicle / solar street lamp.
Performance characteristics
1. Welding voltage locking technology can prevent the fluctuation of network voltage from affecting the welding current.
2. The welding pulse width is adjustable, the welding spatter is small, and the welding spot does not change color.
3. It has the function of two-stage current detection and comparison, and the sound and light alarm for abnormal current can effectively prevent the occurrence of false welding.
4. With fault self diagnosis function, display the corresponding fault point, convenient maintenance.
5. Using the embedded programming module of motion control card, just need to calibrate a starting point coordinate, input the number of X and Y axes, space, can automatically generate the welding head motion trajectory and save it in the system file, programming is simple and easy to learn.
6. 99 groups of welding procedures and parameters can be stored in the system, and the product can be replaced only by adjusting the energy and calling out the program. The welding head can be pneumatic, electric and rotary.
Product parameters
Input voltage / power: 380V / 220V optional, 3000W / 5000W
Overall dimension L * w * H: 1280 * 900 * 1650mm
Equipment weight: 350kg
Suitable for battery: 18650 / 26650 / 32650
Spot welding mode: single spot / double spot / three spot optional, support asymmetric spot welding
Cooling mode: circulating water cooling
Suitable thickness of nickel sheet: 0.1-0.3mm, grooving or bumping is required for more than 0.2
Welding head inlet spring pressure range: 1.0-5.0kg
72-75mm, 100mm wide
Average welding speed: 0.4-0.8s
Y-axis and z-axis stroke: 450mm * 450mm
Programming time: 1-3 minutes
Artificial aging: 2-3 people can be saved
Transmission mode: servo + imported precision screw + guide rail
Operating system: embedded motion controller + touch screen
Displacement accuracy: 0.05mm
Parameter storage: 99 groups
Welding power supply: Precision DC 5000A (standard configuration)
Welding current range: 800a-5000a adjustable, accuracy 1a
Equipment display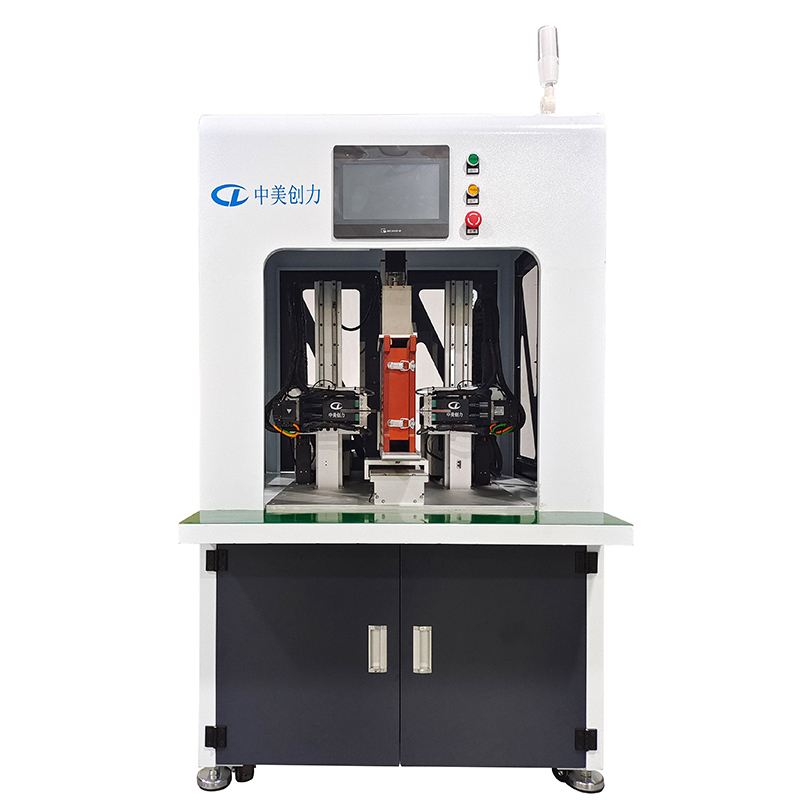 文章版权备注
文章版权归 CAC 所有
文章链接:http://en.szzmcl.com/3566.html
未经授权,禁止任何站点镜像、采集、或复制本站内容,违者通过法律途径维权到底!